Information you can trust from an experienced professional
Est. 2003
Start to learn from Vivienne today, wherever you live in the world.
Classes & courses for all levels: from beginners to pros
Online and in 'real' life!
Online Video Courses Available
Classes in-Person: Locations Available…
These take place regularly in

IRELAND, LONDON & PORTUGAL

and in other countries upon request.
NOTE: I won't sell, spam or steal your email address! I have no interest in doing something dodgy. And you can unsubscribe whenever you want.
Herbs for Home-Use
For total beginners to experienced DIY enthusiasts: classes & online courses
Herbs for Professionals
Extend your skills with CPD classes, private lessons or consultancy sessions
Make Natural Cosmetics
Use herbs to make gorgeous skincare treatments at home or professionally
Learn in-person or online
Practical learning options to fit in with busy modern lives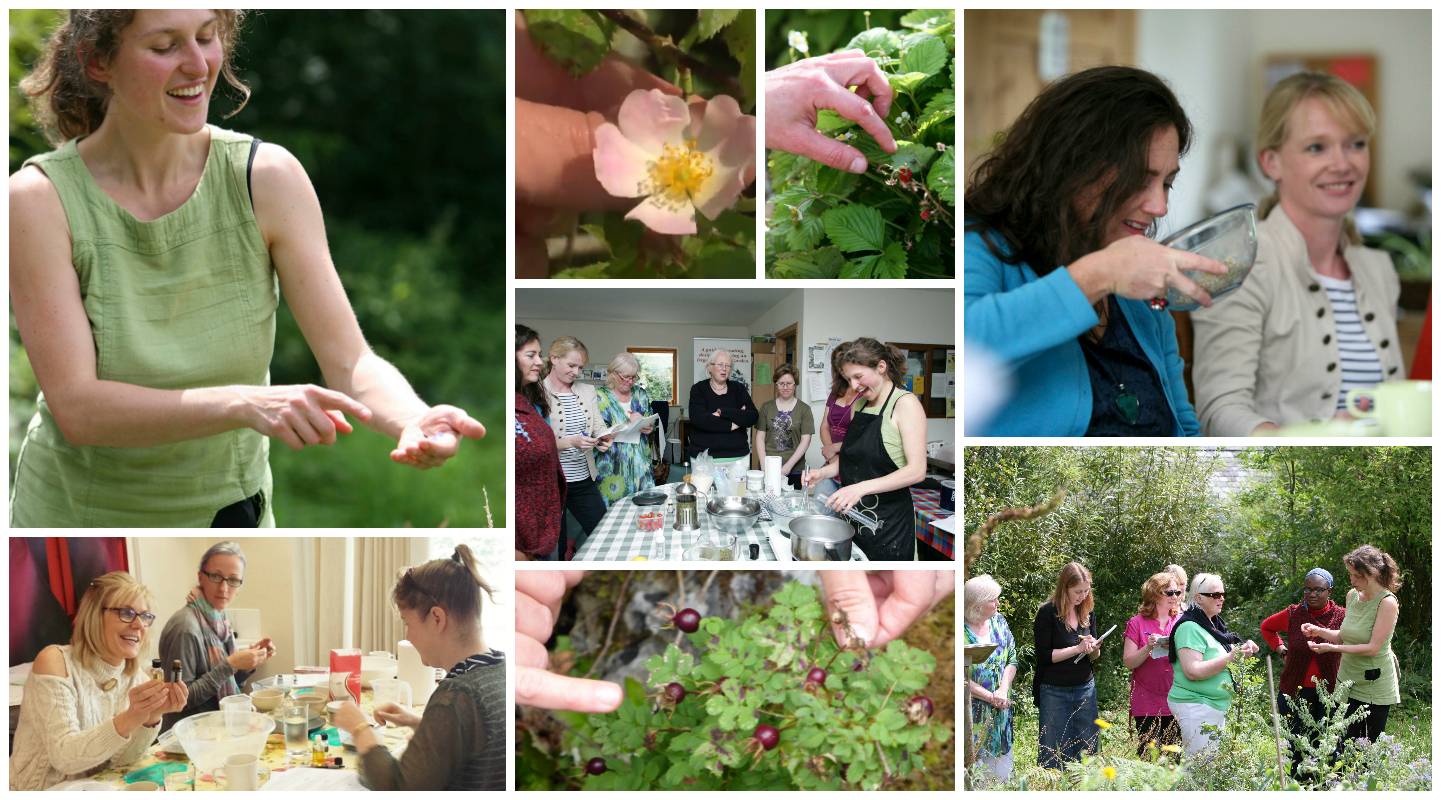 Use & Watch My Free Resources Today
Start to learn now
Come to Classes & Foraging Walks
in Ireland & UK
Learn from me in-depth: join my online course
World-wide
Receive My Really Reliable Newsletter!
Delivers interesting & accurate articles right in to your Inbox.
Info from an online source that you can actually trust!
Fields, woods, gardens, towns, cities, parks & coastline....
These areas are full of medicinal & edible plants
which you can learn to use simply and joyfully at home
or include in your work.
You just need a guide to show you how.
Why learn about your local wild herbs?
THREE BENEFITS
HEALTH
Learning to use fresh, nourishing, local herbs can help to maintain good health and boost vitality. Fresh air and exercise while you pick them; nutritional benefits when you consume them!
ORGANIC
Reduce your exposure to harmful unnecessary synthetic chemicals in your life by learning about safe natural ingredients and how to use them to make your own effective natural products at home.
FUN
Discover the joy of beginning to recognise therapeutic plants that grow around you. A delightful and fulfilling activity that changes the way you see the landscape forever as you develop these life-enhancing skills.
HERBS FOR HEALTH
Want to learn about immune-boosting berries, first aid plants to ease bumps & bruises or traditional tonics to increase vitality? Herbal extracts are easy to make when you know how and some are absolutely delicious! Discover cordials, tinctures, syrups, oxymels, herbal vinegar, poultices, infused oils, ointments and much more.
HERBS FOR SKINCARE
Nature provides an abundance of plants that nourish and improve the health of the skin and hair. It's such a joy to begin to use beautiful flowers such as roses, lavender and calendula to make your own organic skincare treatments. Learn how to make your own genuinely natural cosmetics at my classes (in Ireland and UK) or in my online courses.
Do you have or are you developing a range of professional, natural skin or hair-care products for retail? If you'd like to learn how you can use herbs to enhance your products then I offer consultancy sessions, mentoring and specialist lessons. Contact me for details.
EDIBLE WILD PLANTS
Did you know that there are plants growing around you that are highly nutritious edible wild foods? The common daisy (Bellis perennis) contains nearly as much vitamin C as lemons. Nettles (Urtica dioica) are rich in iron, calcium and magnesium in a form that's easily absorbed by the body. Enrich your diet and enhance your health by starting to include a few safe, edible, wild plants in your diet.
HERBS FOR A HAPPY FAMILY
Looking for and collecting wild herbs can turn a family walk in to an exciting adventure. Preparing the herbs and cooking them in to delicious drinks such as cordials is an activity that adults and children can really enjoy together. And at the end you all get to drink the fruits of your labour! A lovely way to spend quality time together, encourage the kids to engage with nature and make happy memories.
A LITTLE INFO ABOUT ME
There's plenty of information on the internet about herbal remedies, wild food and natural cosmetic-making but a lot of it is very unreliable! This is actually my profession, not an amateur blog or front for pushing a brand of products.
I qualified as a medical herbalist in 2003 and have worked in this ever since. I teach herbal medicine & wild food foraging. I'm also a professional natural cosmetic-formulator, consultant & teacher. I've given lectures at international conferences, talks at health shows, presented on national television, been interviewed for documentaries, written articles for journals and specialist publications etc. Over the years I've taught thousands of people. I'm a member of the National Institute of Medical Herbalists and The Association of Foragers.
I love teaching people how to use local herbs safely, effectively and joyfully, whether you are a total beginner who simply wants to be able to make a few remedies at home in your own kitchen, or someone who wants to work with herbs professionally. The potential of working with native therapeutic plants has vast capacity to enrich our lives, prevent & repair environmental damage and improve life for everything on this planet. At a time where we are bombarded with bad news, this is something truly effective that we can all do to contribute to creating a healthy, thriving world based on respecting and caring for life in all forms. And I'm thrilled to bits that there's so much interest now! To read more click here https://theherbalhub.com/about-vivienne/
What people say about my classes, courses, talks etc.
"You've given us SO MUCH useful info in such a good, clear form.

Your course is excellent!"

Online course student

"I am just sending an e-mail to you to say thank you for the 1st series of your E-course.

I found it very interesting, full of useful information, easy to follow and profound in knowledge.

And you know what? It turned out that I did not have to go further than our own garden to find all of the herbs... 

I made Hawthorn syrup for the very first time in my life and it is delicious with ice cubes especially on a hot summer day. So thank you again and I am looking forward to the next series."

[about 'Learn with the Seasons':

my online herbal medicine and wild food course,
Fields, woods, gardens, towns, cities, parks & coastline....
These areas are full of medicinal & edible plants
which you can learn to use simply and joyfully.
You just need a guide to show you how.
Change the way you see the landscape forever
Fall in love with your surroundings
Join me today